Posted 18.1.12
Authentic restaurant curry kits... a mouseclick away!
Eazyweb are pleased to announce the redesign & development of the AsiaSpiceBox.com website.
The owners of this delicious food service had a website that was failing to produce online orders, due to an ineffective product catalogue and poor conversion ratios.
Eazyweb were able to revamp the design of the existing site, whilst taking into account the existing branding, and create a fresh new website... all for a refreshingly low price.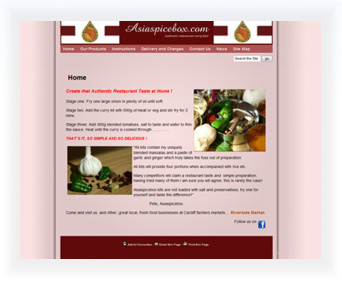 This simple five-page site benefits from a revamped sales experience, offering a Product Catalogue plus Shopping Cart.
Fully editable website
The client is able to update any part of the site, add news items, update the products, create unlimited new pages... all using the online eazyCMS web editing system.
This is an excellent example of our basic Small Business Website service with eCommerce, built from your existing website and online within 2 working days.
And for less than £200 a year... it all adds up to a tasty-looking offering!
More Info
Asia Spice Box ( http://www.AsiaSpiceBox.com )
Small Business Website Design/Redesign service ( http://eazyweb.net/small-business-website-deal )
Contact Eazyweb Internet today on 02920 344006 to find out how we get your failing site turned around and working for you again.